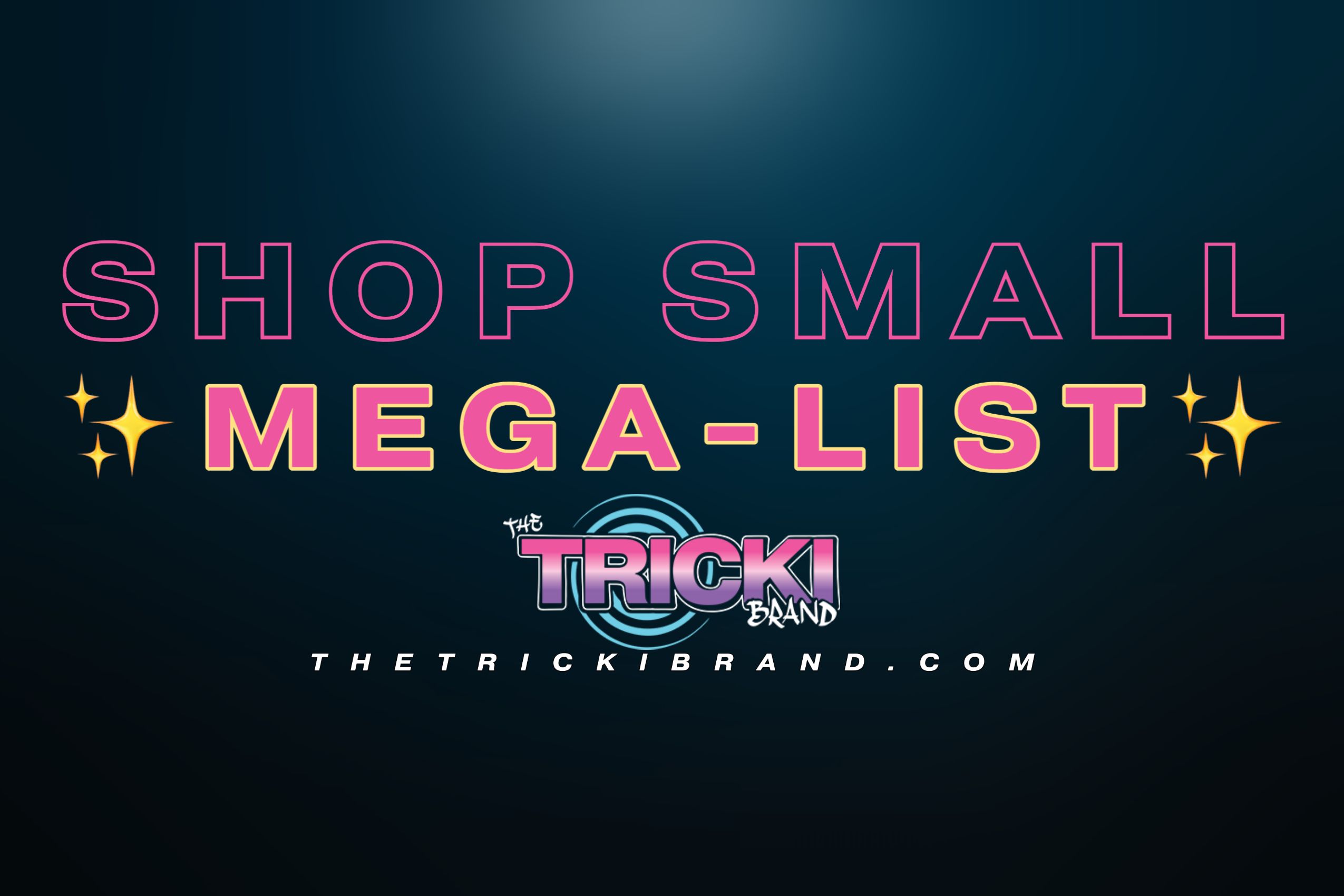 Welcome to your ultimate guide for supporting small businesses this holiday season!  
Shop Healers, Alternative Medicine, Artists, Makers, Fashion + more, ALL RIGHT HERE!   
Before we get into it, obviously check out my offerings on The TRICKI Brand SHOP page.  Use code "WELCOME" for 20% off SITE-WIDE at checkout!  
ALSO, FEEL FREE TO DOWNLOAD A FREE PDF VERSION OF THIS LIST RIGHT HERE. 
AND NOW FOR THE MOMENT YOU'VE ALL BEEN WAITING FOR...   
ENJOY! 💖 
---
Artists
Rob Perna Jr | Music + Art 
instagram.com/funkystarchild78 
Faithsfunnn | Street Artist, Narwhal Queen, Canvas Art  
BLAST | Psychedelic Art 
Lisa Kelley Art | Artist, Harm Reductionist, Activist  
Art by Harley Black | Abstract Fluid Acrylic Art  
https://www.etsy.com/shop/ArtByHarleyBlack   
*USE CODE "HOLIDAY20" FOR 20% OFF ANYTHING IN HER SHOP, EXCLUSIVELY FOR THE TRICKI BRAND MEGA-LIST USERS!  
Alex Sayer | Artist + Intuitive, Aura Painter  
Cary Galbraith | Oil Painter  
https://www.carygalbraithart.com/  
Marie Harvey Designs | Visual Arts Witch and Photography   
instagram.com/mh_designs_and_photography  
John Hannafin | Impressionist Oil Painter   
Matthew Macheski Fine Art | Fine Artist  
https://matthewmacheskifineart.com/  
SOUP CAN MAGAZINE | Art & Poetry Print Publication  
Amanda Bienko | Artwork/Prints/Stickers  
https://www.amandabienko.com/shop  
Amanda Harty | Designer, Painter, Artist   
instagram.com/miss_artsydesigns  
Whealth by Grace | Art, Music + Spiritual Healing   
https://eringracestory.wixsite.com/mysite  
Amberella | Mixed Media/Street Artist  
Mary Melt | Art/Photography  
Daniel Truxton | Artist 
---
Healers / Alternative Medicine / Holistic / Astrology  
Earth Angel Liz | Medicine Woman, Kambo Practitioner, Spiritual Tools   
https://www.earthangelliz.com/  
Allison Unplugged | Plant Magic GODDESS   
(A)lixir | Fresh Pressed Juices  
(Custom Orders Available)  
MELD Creative Studios | Holistic Music Studio (In-Person Nashville + Virtual Offerings)   
https://www.meldmusic.net/meld-creative-studios  
Karinee Lopez | Womb Medicine  
Indigo Healing Arts Collective | Curated Wellness Experience + Apothecary   
https://www.indigohealingarts.net/  
Rainbows of Healing | Supporting Journeys of Spirituality, Health + Wellness   
Ancient Owl | Healing Skincare Nourished by Nature  
Habitat Studios | Alternative & Holistic Health Service  
https://www.habitatstudios.org/  
---
Apparel/Street Wear/Fashion Designers  
DOOMED FUTURE | Street Art + Apparel  
ALT RAQ APPAREL | Sustainably + Hand Made With Love    
Streets Need That | Apparel/Street Wear    
https://streetsneedthat.bigcartel.com/   
Icecold Phatties | Heady Apparel 
Bombardment Co | Clothing Brand  
Clockwork Supply Co | Streetwear / Clothing Brand    
https://www.clockworkallday.com/shop  
Vicious Vesture | Fashion Designer  
https://viciousvesture.storenvy.com/  
Lovers & Fools | Pre-Loved, Recycled + Vintage Materials Clothing Brand  
Euphoric Blossom Dyes | Psychedelic Tye Dye for ALL    
---
Jewelry
Rosie's Grateful Garden | Botanical Art for Bodies + Homes   
instagram.com/rosies_grateful_garden  
Conjure Jewelry | Sustainable, Ethical + Magical Jewelry    
https://www.conjurejewelry.com/   
Kathy Romano Collection | Chic Jewelry for Any Occasion    
https://kathyromanocollection.com/   
Kernel Cuspid | Queer Chainmail Company  
Heady Betty's | Handmade Resin Jewelry + Wall Hangings    
Jewelry by Jennifer Jones | Wire-Wrapped Crystals + Jewlery  
http://jenniferjonesjewelry.squarespace.com/   
Aurora Moon Creations | Crystal + Gemstone Jewelry Made with Intention   
---
Product / Services / Networking / Community  
Nails by Carla | Nail Artist  
Jessica Hagan Photography | Creative Photography  
https://jessicahaganphotography.pixieset.com  
Kevin Matsanka Photography | Music Photography 
Custom Smiles | Personalized/Custom Products    
https://www.customsmilesmerchandise.com/   
Go Make Love To You | Lifestyle + Community Dedicated to Radical Self Love  
https://www.gomakelovetoyou.com/   
Elevate Hair Studio by Tricia Cosgrove | Hair Salon + Boutique Gifts    
Bean Muggin Coffee Co | Coffee Company  
https://beanmuggincoffeeco.com/  
Why Sew Serious? | Custom Sewing + Embroidery    
https://www.etsy.com/shop/whysewserious1  
Hocus Pocus Cleaning Services | Cleaning Company (Servicing Lehigh County)  
www.hocuspocuscleaningservices.com  
Love Grows CSA | Community Supported Agriculture    
Oakdale Concrete Creations | Concrete Planters + Decor    
instagram.com/oakdaleconcretecreations  
CocoSkinHaven | Organic Coconut Masks  
https://www.etsy.com/shop/CocoSkinHaven?ref=simple-shop-header-name&listing_id=897329406   
Rebel Rebel Organic Hair + Dreadlock Salon  
Neckbone Ink | Tattoo Studio + Gallery    
Wicks & Sticks | Ethically Sourced Magical Tools  
Homestead Studios | History Reclaimed, Unique Gifts   
https://homestead-studios.com/
---
THANK YOU SO MUCH FOR SHOPPING THE TRICKI BRAND'S "SHOP SMALL MEGA-LIST" FOR 2021!  I INTEND TO KEEP THIS LIST UP WELL BEYOND THE HOLIDAYS + CONTINUE TO ADD CREATORS AS TIME GOES ON.  I CANNOT WAIT TO SEE HOW MUCH WE HAVE GROWN BY NEXT YEAR!  
To be included in this list, simply email Nikki at thetrickibrand@gmail.com with your business' name, brief description, + direct link where people can consume your goods.