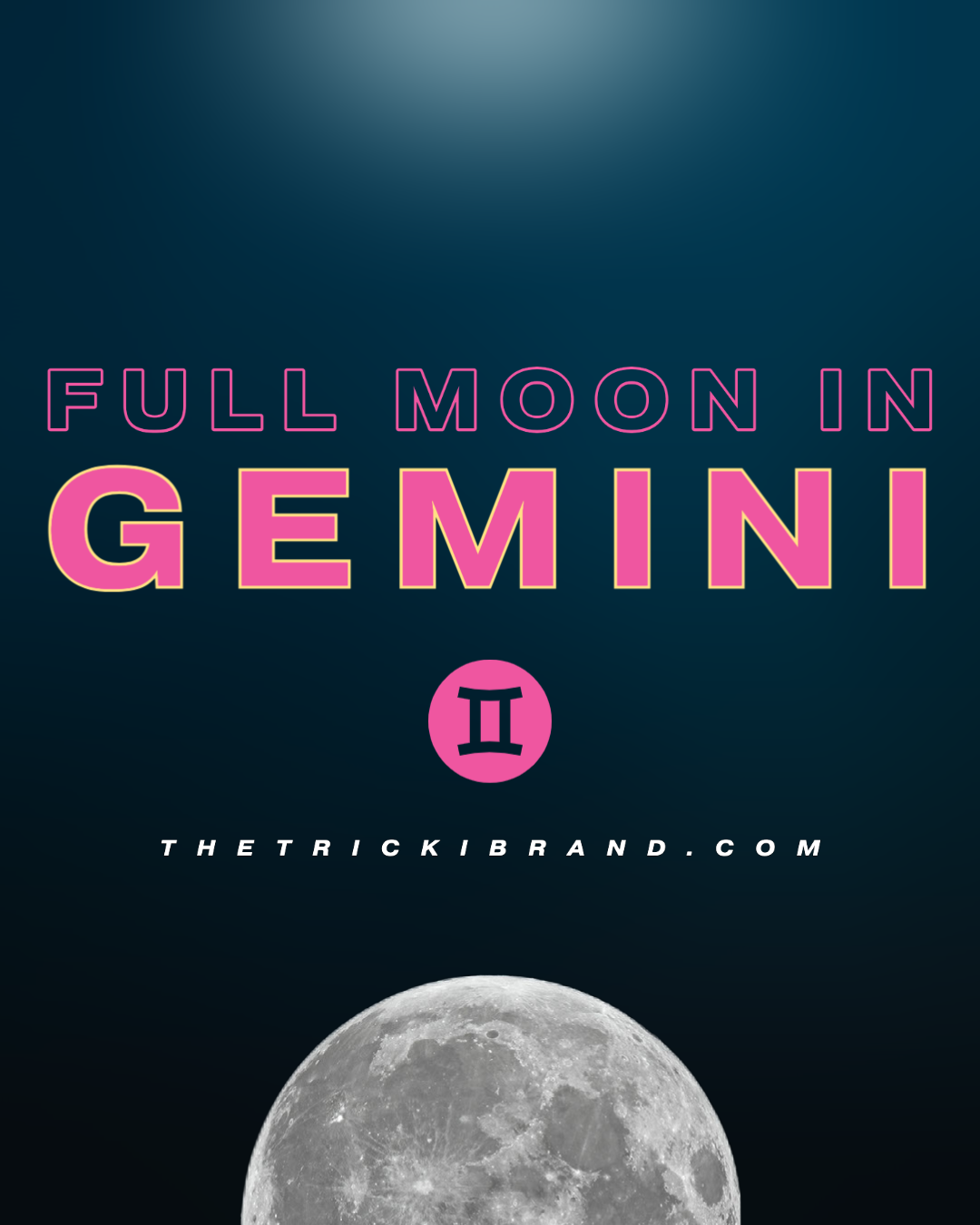 We have a Full Moon in the sign of Gemini during Sagittarius Season. 
What exactly does this mean?
For starters, Gemini + Sagittarius are polar opposites on the zodiac wheel of the year, so we are experiencing a constant state of duality + polarity. You will notice major contrasting patterns occurring simultaneously. 
This is BIG GEMINI ENERGY- 2 HEADS ARE BETTER THAN ONE!!!
Gemini are the twins of the zodiac and while they're frequently misunderstood for being two-faced, Gemini is a divine messenger between all planes of existence and the physical one we live in.  
THIS GEMINI FULL MOON IS ABOUT EXISTING IN DUALITY:  
there is a time for discipline + indulging yourself.
there is a purpose for both the light + dark.
there are major benefits from having a routine or ritual, but it is also powerful to create when you are aligned.
with every ending is a new beginning, and since this is the final full moon of the year, that theme is very fitting. 
---
I invite you to join the cosmic dance of seeing both sides of the coin + trying to create a balance for yourself.   
---
BIG REFLECTION + EXPANSION ENERGY!!! ✨
If you're a journaler, or just introspective, think about this past year + what you can take away from your experience. Tap into your strength + resiliency.  We made it through a fucking lot.
💰MATTERS OF FINANCE ARE CROPPING UP UNIVERASALLY!💰
Remember that money is a constant energy flow. Tap into abundance + know the universe will always provide.  Position yourself to receive all that is yours just from being your true, authentic self. 
MY BEST ADVICE FOR THIS MIXED BAG OF ENERGY- go with the flow. 
We noticed a fire lit beneath us when we shifted into Sagittarius Season but with each day getting shorter, time feels like it's slowing down.  Our bodies + bones yearn for rest, yet this Gemini Full Moon energy will once again propel us, like Sagittarius' arrow, into forward movement.  Go. With. The. Flow.
It can feel chaotic navigating these "2" voices of the twins inside of our heads.  Trust me, as a Gemini, I fully understand 😂
Either use discernment, or lay low 💕
TRICKI
---
✨Sign up for The TRICKI Brand MAILING LIST to get exclusive access to deals, announcements + magic!✨