---
This is the spread I do out of ritual + tradition every year.

 
I find this practice extremely helpful to catch a glimpse of the upcoming energy for the New Year.  Of course we all have ~FREE WILL~ but this can be used as insight. 
At the end of each year I review what I wrote in reflection + meditation.  I go back through each month + I am always AMAZED at the ACCURACY of my readings! 
Whether you are a beginner or experienced reader, this spread is most def. for you!
---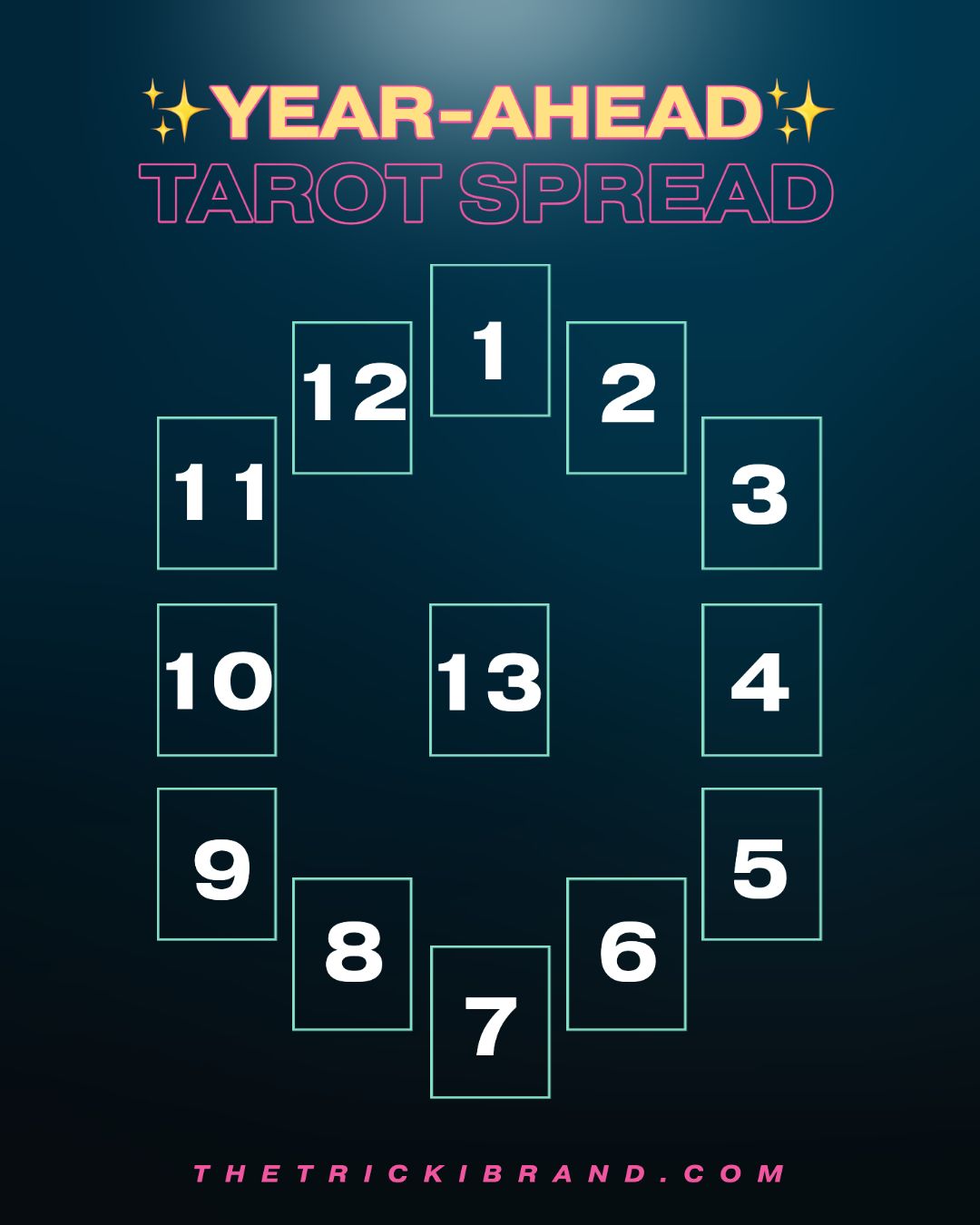 1:  January
2:  February
3:  March
4:  April
5:  May
6:  June
7:  July
8:  August
9:  September
10:  October
11:  November
12:  December
13:  Energy of the Year

(OPTIONAL ADDITIONAL CARDS TO DRAW:  What am I leaving behind in 2021?  What lessons am I taking with me from 2021?  Or any of your own questions that you want answers for).
ALSO!  Sometimes I spice it up + use multiple decks... this gives texture + life to my readings.  I love it!  Try it out!
---
MAKE IT A RITUAL:
Do this reading in ritual by making a sacred space for yourself. 
Clear off a surface + do any combination of the following to get started:

💞  Light a candle
💞  Cleanse your space + tools energetically
💞  Take some deep breaths + focus
💞  Set an intention
💞  Say a prayer

THEN BEGIN!

REMEMBER TO GIVE THANKS + SHARE GRATITUDE TO SPIRIT BEFORE YOU CLOSE OUT!
---
WOULD YOU LIKE TO EXPAND YOUR PRACTICE BUT DON'T KNOW WHERE TO START?!  Contact me to work together!  Together we will find what makes you feel most aligned + what brings YOUR magic the best results!!!
---
✨Sign up for The TRICKI Brand MAILING LIST to get exclusive access to deals, announcements + magic!✨