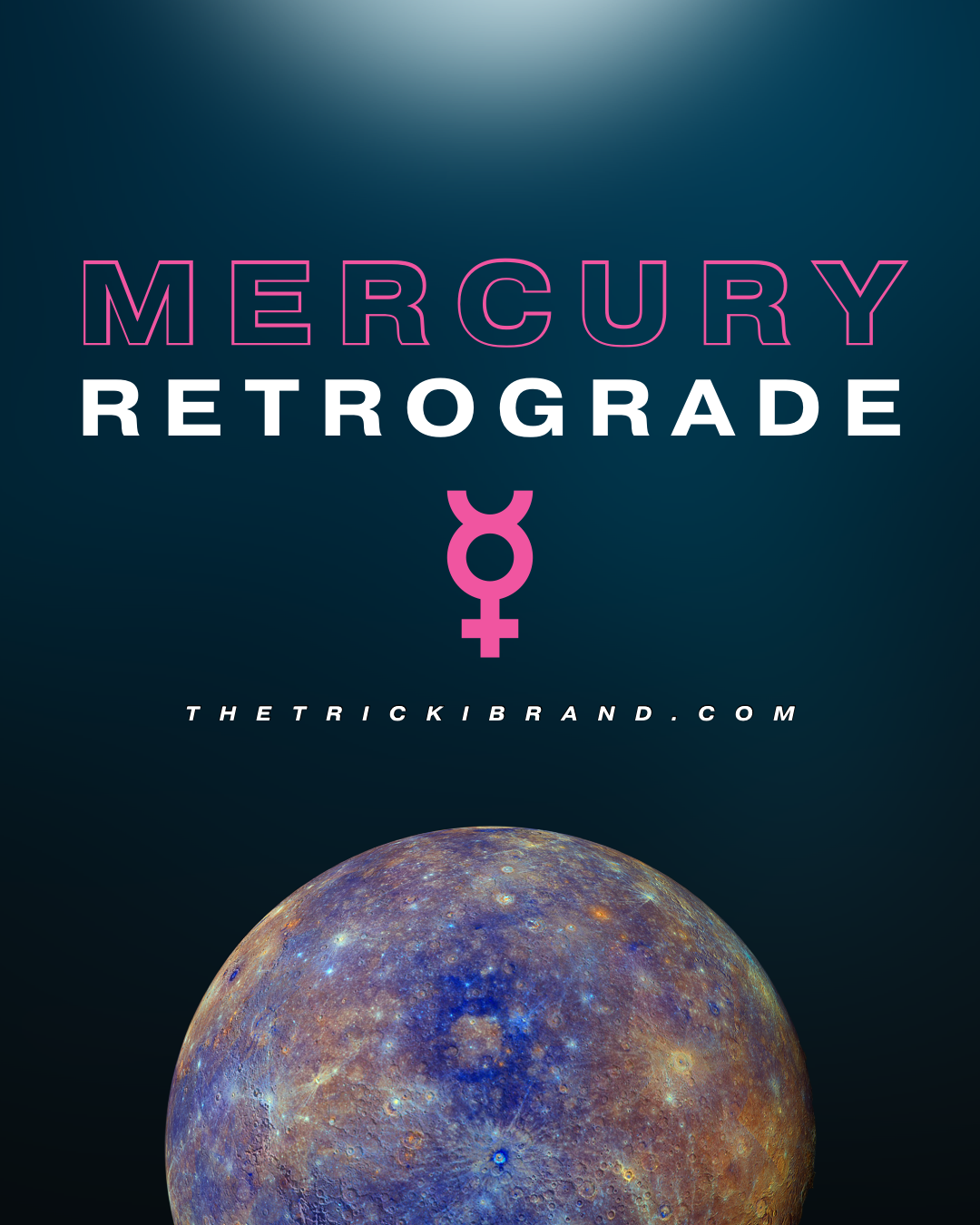 By: Nikki DiGiorgio
---
It's that time of year again!
Well, actually, it's the first Mercury Rx of the New Year... but you know what I mean.
This is by far the most popular Astro Event worldwide.  
It's a time where the Collective freaks out together waiting for their exes to hit them up + stir the pot. 
It also gets a bum rep from all the nay-sayers + non-believers out there claiming it's just another excuse for people to blame their shitty behavior on. 
But Mercury Retrograde is so much more than these accounts.
---
Mercury is the Messenger of the Gods.  He rules over ALL communications, including any machine who's purpose it is to "communicate" or share information with other machines in any way.  So plainly put, when this planet goes retrograde communication breakdowns are to be expected.
I don't make the rules yall. 
If you're anything like my boyfriend you may be tempted to tease + say I'm jinxing it to actually happen... 
AND I HEAR YOU!
BUT!!!!!!
LEST WE FORGET THE GREAT IG + FB BLACKOUT OF OCTOBER 2021 THAT TOOK PLACE DURING, YOU GUESSED IT, MERCURY RETROGRADE!
All I'm saying is it is a very real phenomenon + I would encourage you to brace yourself + be mindful about what's going on around you!
---
Retrogrades are a time for SLOWING DOWN, revision + reflection. 
They aren't meant to induce fear. 
Here are some tips to protect your energy while Mercury enters this shadow period:
💖 Carry stones for communication, clarity, + grounding 
💖  Back up important stuff onto an external hard drive 
💖  Be mindful about making new contracts/agreements/dates during this period. Not suggesting you put off your life on hold, but decisions made during retrogrades carry an ability to be revisited later - aka the reason why exes hit you up during this time 
💖 Choose to have serious conversations in-person to avoid miscommunications 
💖  Don't rely on computers for anything absolute - have a back up plan or hard copy just in case 
💖  No ... you shouldn't hit up your ex 
💖  Listen to frequencies 
💖  Prayer + Meditation 
💖  Check in with yourself and body. (Book an Energy Healing Session with me!)
---
2022 MERCURY RETROGRADES:
❤️‍🔥 January 14 - February 3
❤️‍🔥 May 10 - June 2
❤️‍🔥 September 9 - October 2
❤️‍🔥 December 29 - January 18
---
FINAL THOUGHTS:
Because Mercury will be retrograding in the sign of Aquarius you can expect your values to be tested. 
Matters involving Human Rights may surface.
Scheduling conflicts may occur. 
Leave early- delays can happen. 
Treat this retrograde like a surge of hormones:  What you're experiencing IS real, however, your feelings + reaction towards them may be disproportionate.  
Stay grounded + don't jump to conclusions.  
YOU GOT THIS!
TRICKI